SHIRLEY POWELL'S
ALTERNATE LIVES. NEW EBOOK EDITION.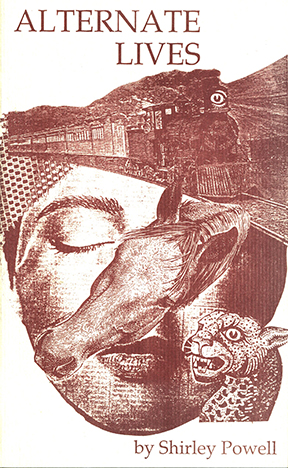 Poet, novelist, and storyteller Shirley Powell is best known for ghostly tales, turning the American Midwest of her childhood, and the New York of her later years, into spine-tingling, tantalizing stories in prose or verse. Alternate Lives weaves the supernatural and transcendental with a very different strain, retelling the lives of seemingly-ordinary people — people who do not read poems — in sparkling images and words. We meet and grow to understand a shepherd, a wise farmer, a lonely African-American farm wife hidden away by a jealous white husband, a cemetery caretaker, and several urban homeless. There's always the dark, Chthonic undercurrent, though, as she veins into the very cells of someone frozen in the snow, and another who lived and died in a tree, "leaving my satisfied skeleton wherever scavengers let fall the bits of me." In another poem she has entered the soil, saying, "I am really gone this time." The Woodstock Times reviewer cited the book's "original visions of country living, strange tales unadorned with sentimentality." The book features montage art illustrations by Mildred Barker.
This is the 247th publication of The Poet's Press. To order the PDF ebook for $2.99, click below.