---

TWO BOOKS BY BY THOMAS D. JONES.
Here is the second volume of poetry by Thomas D. Jones, a New Jersey-born poet now residing in Rhode Island. Lyrics and philosophical musings in the spirit of Whitman and Jeffers; narratives ranging from Madame Butterfly to Egyptian mummies. Jones' first book of poetry, Genealogy X, was published by The Poet's Press in 2000. His poem "Flute Girl" appeared in Language and Culture (online) in the Winter of 2008 and his poem "A Bagger's Life" appear in an anthology called Appleseeds in Fall 2008. His poetry last appeared in Raintiger (raintiger.com), The Surface, Scrivener's Pen and Write-Away on-line journals, and his work has been published in numerous print magazines throughout the country. Originally from northern New Jersey, he has a BA in English and an MA in Publishing Studies from New York University, and is the former publisher and poetry editor of Wings, an online magazine. After twelve years in the publishing field in the New York/ New Jersey area, he began teaching ESL and computer skills at adult education programs in Rhode Island.
Second edition, 2019. 124 pages, 6 x 9 inches, paperback. ISBN 978-0922558988. $12.95. PDF ebook $2.99. This is the 238th publication of The Poet's Press.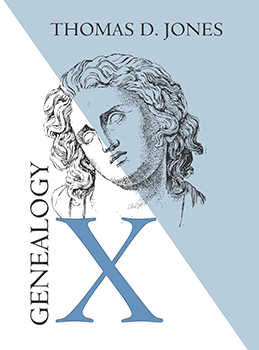 Thomas D. Jones' first book, Genealogy X, was a hand-made, limited edition chapbook produced by The Poet's Press in Weehawken in the year 2000. We have now re-set the type for the edition and recreated in a PDF ebook, with all the original art elements and design. The PDF is available for immediate download for $2.99.
---
Version 1.0 Updated May 17, 2020, 2019
History of the Press
Book Listings
Anthologies
Joel Allegretti
Leonid Andreyev
Mikhail Artsybashev
Jody Azzouni
Moira Bailis
Callimachus
Robert Carothers
Samuel Croxall
Richard Davidson
Claudia Dikinis
Arthur Erbe
Erckmann-Chatrian
Emilie Glen
Emily Greco
Annette Hayn
Heinrich Heine
Barbara A. Holland
Thomas D. Jones
Michael Katz
Li Yu
Richard Lyman
D.H. Melhem
David Messineo
Th. Metzger
J Rutherford Moss
John Burnett Payne
Edgar Allan Poe
Meleager
Ovid
Suzanne Post
Shirley Powell
Burt Rashbaum
Ernst Raupach
Susanna Rich
Brett Rutherford
Boria Sax
Charles Sorley
Vincent Spina
Ludwig Tieck
Pieter Vanderbeck
Jack Veasey
Jonathan Aryeh Wayne
Jacqueline de Weever
Don Washburn
Phillis Wheatley
Sarah Helen Whitman
Section Links
Featured Poets
Guest Poets
Resources
Presses & Journals