---
THE WRITINGS OF EMILIE GLEN 4: POEMS FROM MANUSCRIPTS.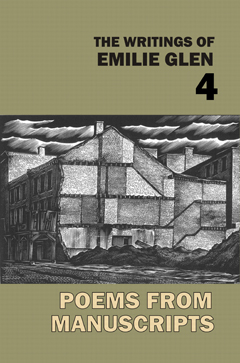 This fourth and final volume collects all the unpublished manuscripts left by New York poet Emilie Glen. These 180 poems, lyric and narrative, far from being the "bottom drawer" of the poet's work, contain the same urban savor as her longer works. Some of these poems were read by the poet repeatedly at the poetry salon she ran in Greenwich Village, and prior to that, at the salon she ran at her high-rise apartment on the Lower East Side in the 1960s and 1970s. As always, her most engaging poems are miniature short stories, all set against a noir Manhattan that includes both shocking murders as well as moments of unexpected beauty among fire escapes, trash cans, alley cats, and the migratory birds in Central Park. The book includes several surprisingly experimental works and a true account of a horrifying psychopath who ran a Greenwich Village coffee house. Published March 2017.
152 pp., illustrated. The 228th publication of The Poet's Press. 6 x 9 inches, paperback. ISBN 0-922558-87-6 $14.95. Or, purchase the PDF ebook for $2.00.
Buy PDF Ebook Now
---
Version 21.3 Updated November 18, 2019
History of the Press
Book Listings
Anthologies
Joel Allegretti
Leonid Andreyev
Mikhail Artsybashev
Jody Azzouni
Moira Bailis
Callimachus
Robert Carothers
Samuel Croxall
Richard Davidson
Claudia Dikinis
Arthur Erbe
Erckmann-Chatrian
Emilie Glen
Emily Greco
Annette Hayn
Heinrich Heine
Barbara A. Holland
Thomas D. Jones
Michael Katz
Li Yu
Richard Lyman
D.H. Melhem
David Messineo
Th. Metzger
J Rutherford Moss
John Burnett Payne
Edgar Allan Poe
Meleager
Ovid
Suzanne Post
Shirley Powell
Burt Rashbaum
Ernst Raupach
Susanna Rich
Brett Rutherford
Boria Sax
Charles Sorley
Vincent Spina
Ludwig Tieck
Pieter Vanderbeck
Jack Veasey
Jonathan Aryeh Wayne
Jacqueline de Weever
Don Washburn
Phillis Wheatley
Sarah Helen Whitman
Section Links
Featured Poets
Guest Poets
Resources
Presses & Journals