---
THE WRITINGS OF EMILIE GLEN 3: POEMS FROM MAGAZINES 1955-1990.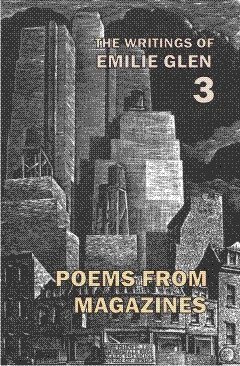 For more than four decades, New York City poet Emilie Glen produced a torrent of poetry, widely published in little magazines all over the world, and in a series of books and chapbooks that went through numerous reprints. Yet when the poet died in 1995, all that remained of her papers were several shopping bags full of manuscripts, chapbooks and tear sheets of already-published works. From this legacy, Brett Rutherford has assembled all the presently-available poems of this prolific New York poet. This third volume presents the 193 recovered poems that appeared in magazines and newspapers, but were not included in Glen's many chapbooks. None of these poems exist in manuscript.
Because the works are here in the order discovered, the book's randomness invites at-random reading. Open anywhere, and the Emilie we know from the first volume is still here in spades: poet, actress, pianist, bird-watcher, cat-lover, nature rhapsodist, the woman of Manhattan with a piercing eye for character and image. She is the city, the street, the windows, the bridges and tunnels, the parks and fountains, the desperate dreamers on the doorsteps.
The journals that originally published these poems include The Prairie Schooner, Southwest Review, Chat Noir Review, The Christian Science Monitor, Quartet, Snowy Egret, Coe Review, The Georgia Review, Midwest Quarterly, Coffee House Review, Green's Magazine, Poetry Venture, Lynx, Encore, Cats Magazine, Imprints, Etchings, Limbo, Manifold, Loon, Free Lance, Lake Superior Review, Massachussets Review, Beloit Poetry Journal, and Poet Lore. Other poems in the book are from tear-sheets from unidentified publications.
The editor located eleven poems originally published in ETC: A Review of General Semantics, and they are published here as a group since there is a thematic connection to some of the key ideas in semantics. These poems play on the paradoxes and ironies of how things come to be named, how we are manipuated by names such as "Acme" and "Atlas" and suggestions of royalty, and how journalism molds its own reality of what is "news" and what is not.
This volume also includes the full text of an out-of-print chapbook from 1963 titled Laughing Lute and Other Poems. This complements the chapbook-based text from Volume 1 of this series.
The 223rd publication of The Poet's Press. ISBN 0-922558-82-5. 6 x 9 inches, 224 pages. $16.95. To order this book from Amazon, CLICK BELOW. Or, purchase the PDF ebook for $2.00.
Buy PDF Ebook Now
---
---
Version 21.2 Updated November 18, 2019 XXX
History of the Press
Book Listings
Anthologies
Joel Allegretti
Leonid Andreyev
Mikhail Artsybashev
Jody Azzouni
Moira Bailis
Callimachus
Robert Carothers
Samuel Croxall
Richard Davidson
Claudia Dikinis
Arthur Erbe
Erckmann-Chatrian
Emilie Glen
Emily Greco
Annette Hayn
Heinrich Heine
Barbara A. Holland
Thomas D. Jones
Michael Katz
Li Yu
Richard Lyman
D.H. Melhem
David Messineo
Th. Metzger
J Rutherford Moss
John Burnett Payne
Edgar Allan Poe
Meleager
Ovid
Suzanne Post
Shirley Powell
Burt Rashbaum
Ernst Raupach
Susanna Rich
Brett Rutherford
Boria Sax
Charles Sorley
Vincent Spina
Ludwig Tieck
Pieter Vanderbeck
Jack Veasey
Jonathan Aryeh Wayne
Jacqueline de Weever
Don Washburn
Phillis Wheatley
Sarah Helen Whitman
Section Links
Featured Poets
Guest Poets
Resources
Presses & Journals